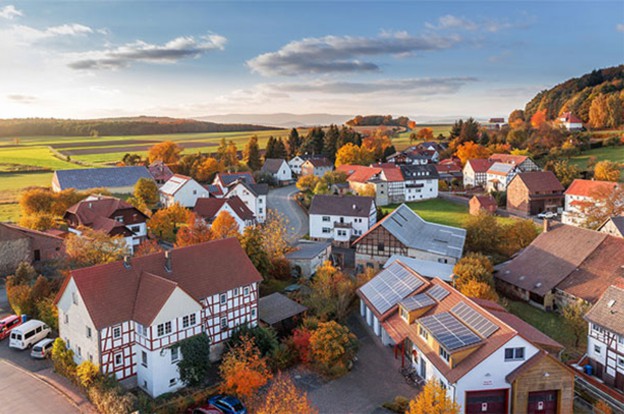 UK property hotspots: Locations that make the latest list
Based on average property price increases, Rightmove has published its Top 10 property hotspots, with access to green, open spaces proving a major draw alongside value.
The property website pinpoints Paisley, bordering Glasgow, as the winner. The area has seen a 15% plus growth in value, from an average asking price of just over £110,00 last year to almost £127,000 today. Rightmove's resident property data expert, Tim Bannister, explains the jump in prices: "with swathes of rolling countryside on the doorstep, it makes sense that Paisley is such a popular destination for home-movers looking for more space." This new figure remains below the average asking price in Scotland and in Great Britain, also making Paisley good value.

Suburban areas in the North West of England continue to perform well, with Lancaster and Wigan recording rises of 12%. The hotspot list includes two locations in West Yorkshire, with Liverpool in tenth place. West Norwood, Lambeth, comes out on top for London hotspots, again with an increase of 12%.
Top 10 UK property hotspots
Rightmove compares average house prices in February 2020 with those in February 2021 to create the list.
Paisley, Renfrewshire
Lancaster, Lancashire
Wigan, Greater Manchester
Bishop Auckland, County Durham
Keighley, W Yorkshire
Pudsey, W Yorkshire
Newquay, Cornwall
Neath, Port Talbot
Wallasey, Wirral, Merseyside
Liverpool, Merseyside
Looking to sell your home?
Save time, money and worry with qualitystreet.co, our combined estate agency and solicitors service, bringing all your needs together with a low fixed fee of £2,999 +VAT. Streamline the way you sell home with a quality service from start to completion, benefitting from big savings too.
How much it will cost to sell your home, including the solicitors costs, with qualitystreet.co
£250,000 – £2,999*
£500,000 – £2,999*
£750,000 – £2,999*
£1,000,000 – £2,999*
*Excludes VAT and disbursements. Terms and conditions apply.
See how you'll save.